This month we were delighted to launch Hari and His Electric Feet into the world, a shimmering, joyful book by Alexander McCall Smith about chasing big dreams and bringing happiness to those around you, all perfectly complemented by Sam Usher's beautiful and characterful artwork.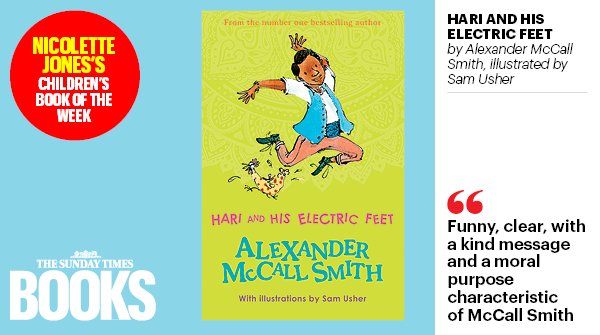 Last week, the Sunday Times announced Hari their Children's Book of the Week!
 "This exuberant tale, recalling the last scene of Slumdog Millionaire, is about a boy, inspired on a Bombay film set, who starts to dance and discovers not only an exceptional talent but that his dancing has the power to make everyone else dance, too. Some would use his skill to bad ends – creating a distraction so they can steal – but Hari's sense of honour triumphs, and he becomes a great global conciliator as he makes opposing factions dance their way to agreement. Funny, clear, with a kind message and a moral purpose characteristic of McCall Smith, this is also a celebration of the power of art. And Sam Usher's deft comic illustrations of dancers, including Buckingham Palace guards doing Bollywood moves, make this an exquisite object."
You can read the full review here!
Watch Alexander McCall Smith introduce the book below and get a read of the first chapter of Hari and His Electric Feet here.